Congratulations!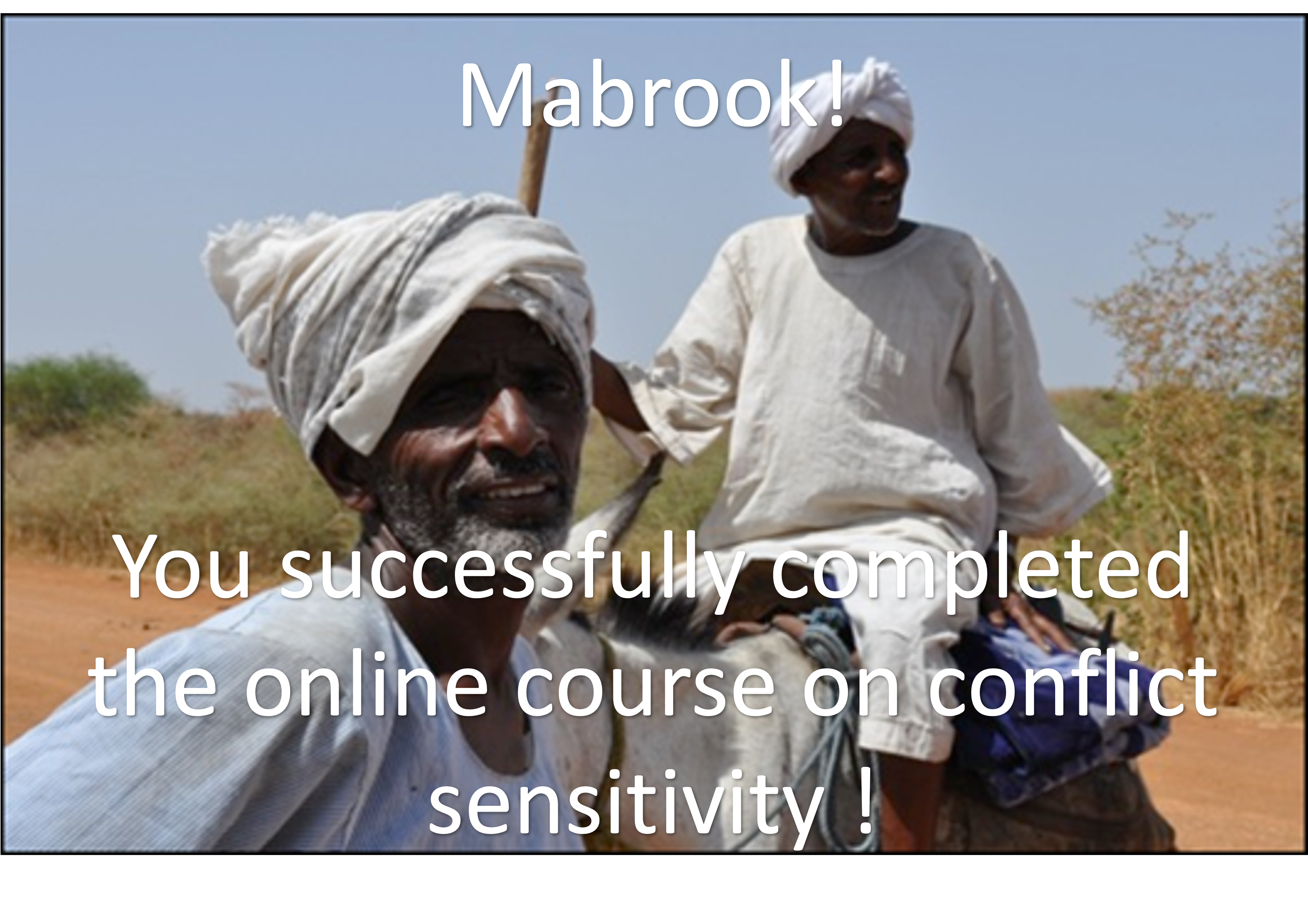 Scroll down for references to additional resources on our website, like articles and online courses, for you to keep strengthening your conflict sensitivity skills. Also have a look at our course on land use and conflict in Sudan!
Research articles specially for you
Other CSF courses that might interest you
Land Conflicts and Aid in Sudan
Land use patterns and trends in Sudan are inextricably tied to a wide range of dynamics that shape the country's potential for both peace and conflict. This course will briefly explore the main features of these dynamics and how they interact with the massive humanitarian relief and development efforts currently underway in Sudan, which have the potential to drive or mitigate potential land-based conflicts.
15 Lectures
1 Hour
This course is only offered online, and provides a very rich overview of the various factors that contribute to violent land conflicts as well as peaceful management of land.  It should be considered necessary knowledge for anyone working on WASH, infrastructure, camp management, returns, food security, livelihoods or governance.  The course covers:
Historical and traditional patterns of land use that shape dynamics today
Current land uses that interact with conflict, including pastoralism, farming, and mining
Case studies of land conflict in Darfur, Gedarif and South Kordofan
Conflict sensitivity risks and opportunities for the aid sector in Sudan
Conflict Analysis Course
Conflict Analysis is fundamental to our ability, as aid actors, to understand the context and adapt our programmes to ensure that we do not inadvertently feed into conflicts but instead make contributions to peace when possible.  This course is designed to help aid actors in Sudan to understand when, why, and how to do conflict analysis, as well as – importantly – how to use it to make aid more conflict sensitive.
15 Lectures
0 Hours
The course will take approximately one hour.  Each section will include a short quiz which must be successfully passed before moving to the next section. We'll be using video and audio in this course, but all of the content will also be provided in text lectures as well, so that if you don't have very good internet, you can still access the content without watching the videos by clicking on the transcript button to download the text.
You are welcome to take the full course in one sitting if you'd like, but you can also close it down and return later to the same place by logging in with your username and password