Evaluation list
Here is a selection of must-read evaluations tailored to your project or interest. Let's make the most of these hard learned lessons to make our thinking, planning and implementation more conflict sensitive.
Back
Livelihood Enhancement for Agro-Pastoral Rural Communities (LEAP) Final Evaluation Report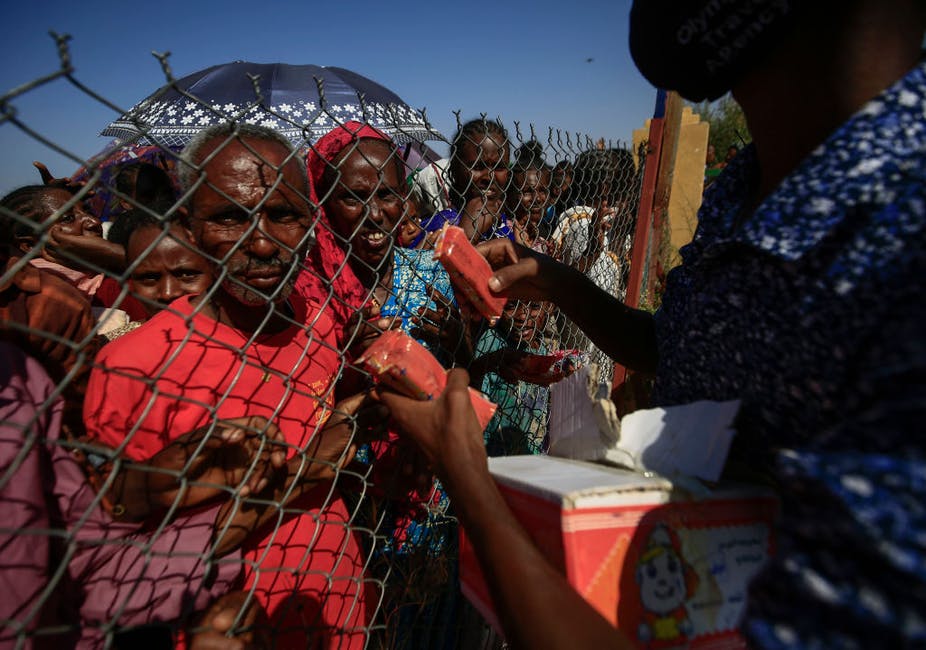 The LEAP project strategy builds on the thesis that the well-being of pastoral and agro-pastoral communities in Darfur can be strengthened in a variety of ways that produce the double-benefit of enhanced livelihoods and a greater capacity for inter-communal peace building and conflict resolution.  The target population includes voluntary returnees and host communities in rural areas in South Darfur, and the beneficiaries are the most vulnerable groups in the areas of operation, who have lost their assets and other means to support their livelihoods and who are unlikely to meet the immediate food needs of their families without assistance. Through this project, families can increase their financial base through selected and sustainable IGA activities, farming activities and capacity building, as well as increase their access to clean water and safe sanitation.
The project is implemented through a partnership approach, both at the community level and with local civil society organisations. At the community level, the project ensures that target groups are involved at all stages of the implementation process with sufficient transfer of best practices and life skills necessary for improving their livelihoods. Communities will also be supported to revive their asset base where possible, stressing the importance of maintaining property and created assets. The project works through local NGOs and CBOs to strengthen their capacity and legitimate representation.
The study methodology involved interviews with informative key person (IKP) and focal group discussions (FGD) in all project sites. Whereas LEAP is a rural development project that consists of a variety of components, the evaluation methodology had to include – in addition to above methods – field visits to gather data from beneficiaries through pre-structured questionnaires and from Village Development Committees (VDCs) and partners through FGD and interviews with CIS staff members involved in LEAP management. However, these sources of information don't rule out the importance of the secondary sources of information, mainly project document, progress reports and baseline survey.
The project has made significant contributions to the overall project and program goals, but there were critical and valuable lessons learned and these are summarized as follows:
The nature of projects targeting returnees should take into account the reluctance of returnees to immediately engage in projects that require and promote self-reliance and community participation. This should be reflected in the timeframe of the project.
Implementing the project fully through community-based organizations and national NGOs guarantees sustainability of successful interventions and triggers an increased sense of self-reliance and ownership in targeted communities.
Training of Trainers (TOT) for community members in post-conflict settings is cost-effective and is an important factor for sustainability. LEAP's experience revealed that TOT for potential community members requires close and prolonged support and follow-up of trainees to succeed.
Peace building is a complex issue that requires continuous interventions and prolonged capacity building of community leaders.
The lesson learned from income-generating activities (IGAs) is that small grants do not protect beneficiaries from the rise of wholesale prices. They may maintain the financial capital but it is still subject to depreciation and depletion over time. The size of cash grants should be revisited continuously throughout the project, and should be flexible to account for market price fluctuations.
Continuous revision and updating of project design is as equally important as initial project design. This is particularly important in remote areas and conflict-affected areas where logistical and security constraints are common.
A strong internal monitoring system for recovery projects is mandatory to ensure that the project is on-track to achieving its end-of-project targets.
Subscribe for Latest Updates
Our monthly updates and WhatsApp peer learning group highlight practical analysis, key events, and diverse viewpoints to help us all deliver Better Aid.