Land rights under stress in Darfur: a volatile dynamic of the conflict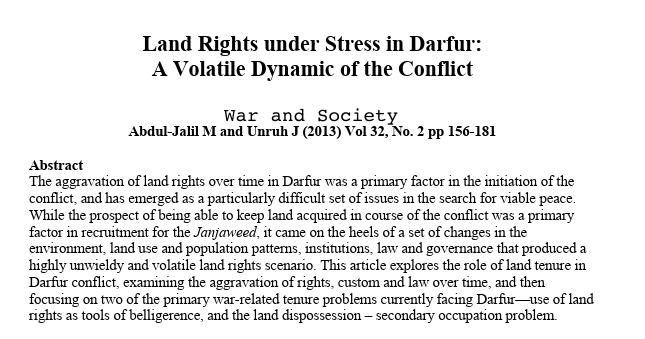 This article explores the role of land tenure in the Darfur conflict, examining the aggravation of rights, custom, and law over time, and then focusing on two of the primary war-related tenure problems currently facing Darfur — use of land rights as tools of belligerence, and the land dispossession — secondary occupation problem. The aggravation of land rights over time in Darfur was a primary factor in the initiation of the conflict and has emerged as a particularly difficult set of issues in the search for viable peace. While the prospect of being able to keep land acquired in course of the conflict was a primary factor in recruitment for the Janjaweed, it came on the heels of a set of changes in the environment, land use and population patterns, institutions, law and governance that produced a highly unwieldy and volatile land rights scenario.
This article was originally posted by the author on ResearchGate.net.
Subscribe for Latest Updates
Our monthly updates and WhatsApp peer learning group highlight practical analysis, key events, and diverse viewpoints to help us all deliver Better Aid.