Evaluation list
Here is a selection of must-read evaluations tailored to your project or interest. Let's make the most of these hard learned lessons to make our thinking, planning and implementation more conflict sensitive.
Back
Sudan EMOP 10760.0: Food assistance to populations affected by conflict: An Operation Evaluation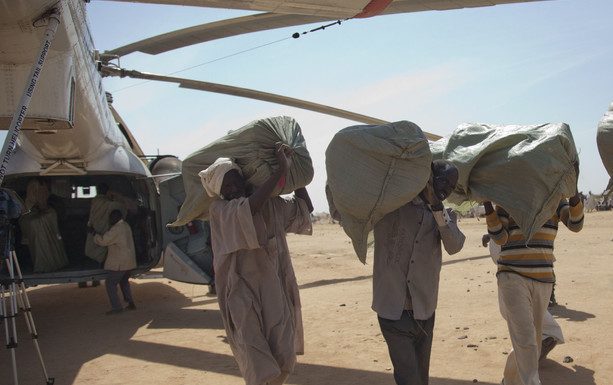 Introduction
This report summarises an evaluation of the World Food Programme"s general food distribution (G FD) in Darfur in 2009 as part of emergency operation (EMOP) 10760.
The team of three international evaluators carried out the fieldwork in March 2009. The evaluators used various methods including key–informant interviews, document research, beneficiary meetings, direct observation, and online surveys.
The outbreak of conflict in Darfur in 2003 lead to deaths, the destruction of productive assets, and large–scale displacement. This displacement led to the loss of livelihoods not only for displaced, but also to a lesser extent for the nomadic and settled communities who were economically linked with the displaced agricultural communities.
WFP has been aiding the whole conflict–affected population in Darfur since 2003, and the programme is now a mature one. Even now, seven years after the conflict started, there has been little return in Darfur as the causes of the displacement are still unresolved.WFP's programme in Sudan was the largest WFP programme in terms of cost (but not in tonnage terms).
The EMOP had the highest cost per ton of any major EMOP, due to the high costs of operating in Darfur. The programme targeted 6.2 million beneficiaries of which 3.8 million were G FD recipients in Darfur.Darfur is a difficult context in which to work. Even in the best of times it is food insecure, with a history of famines, and chronic malnutrition is some areas. Security for international staff has steadily worsened since 2004.
Aid agencies are the targets for criminals stealing cars or, since March 2009, kidnapping international staff for ransom. Added to these problems are difficult logistics, leading to high operating costs.
Subscribe for Latest Updates
Our monthly updates and WhatsApp peer learning group highlight practical analysis, key events, and diverse viewpoints to help us all deliver Better Aid.