Written: 2021 |

Published: April 01, 2021

| REDRESS
Policy Briefing: Legal and Institutional Reforms in Sudan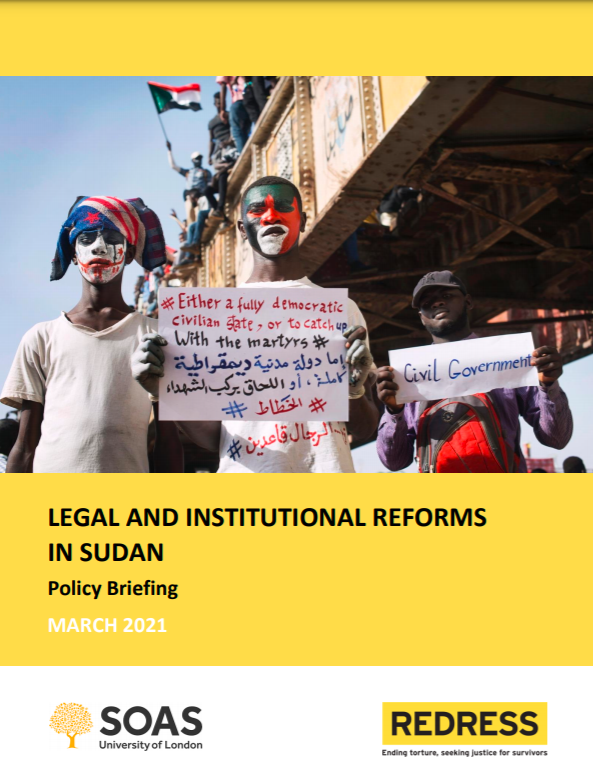 The Juba Peace Agreement and the 2019 Constitutional Document commit Sudan's transitional government to making a series of critical human rights reforms. A set of legislative amendments in November 2019 and July 2020 addressed key issues in Sudan, including female genital mutilation, cooperation with the International Criminal Court, and torture. While these reforms were widely welcomed outside of Sudan as a sign of the government's commitment to addressing legislative shortcomings as part of Sudan's political transition, more is needed.
This policy briefing suggests several priority areas for reform, including the review of security and judicial sector policies and practices, the criminalisation of torture and enforced disappearances in Sudan's criminal code in conformity with UNCAT, and human rights training for government actors in key sectors, among others. These steps should be taken in collaboration with the whole spectrum of stakeholders including civil society, victims, communities, and marginalised groups in Sudan.
Subscribe for Latest Updates
Our monthly updates and WhatsApp peer learning group highlight practical analysis, key events, and diverse viewpoints to help us all deliver Better Aid.