War by other means: the politics of peace negotiations in Sudan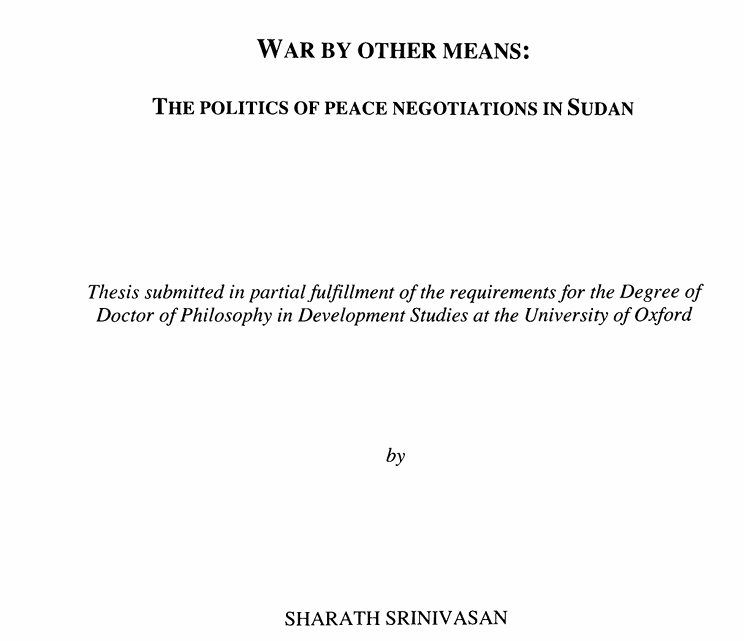 This PhD thesis provides a detailed account of the politics of peace negotiations in Sudan, with a focus on the second civil war that lasted from 1983 to 2005. Chapter 1 provides an overview of the conflict in Sudan and the history of the peace negotiations, while Chapter 2 examines the role of the mediators and the strategies they used to bring the parties to the negotiating table. Chapter 3 analyses the peace negotiations themselves, including the key issues that were contested and the compromises that were reached. Chapter 4 looks at the implementation of the peace agreement and the challenges that arose with particular attention to the Nuba Mountains, while Chapter 5 examines the politics of peacebuilding related to Darfur and the role of external actors in the process. Finally, Chapter 6 discusses the outbreak of violence in Darfur after the second civil war was settled and the implications of this for the peace process in Sudan as a whole.
This thesis was originally posted by the author on ResearchGate.net. 
Subscribe for Latest Updates
Our monthly updates and WhatsApp peer learning group highlight practical analysis, key events, and diverse viewpoints to help us all deliver Better Aid.