Women farmers and food sovereignty in a no war/no peace situation: case of Sudan's South Kordofan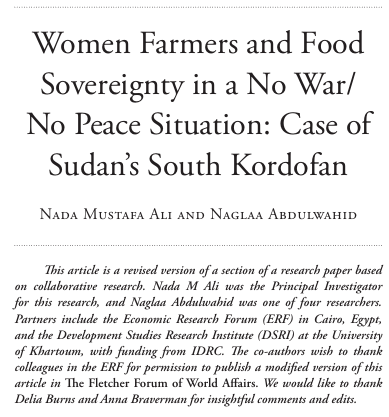 Based on field research in Sudan People's Liberation Movement-North (SPLM-N)-controlled areas of South Kordofan in April and May of 2021, this paper documents and analyses the experiences of women farmers in South Kordofan.  Communities in South Kordofan have endured and resisted decades of socio-economic, political and cultural marginalization at the hands of successive governments in Khartoum. Women farmers, community members, and officials in South Kordofan interviewed for this research perceive women's roles in subsistence farming as essential for ensuring dignity, freedom, survival, and life. Their role is analysed through the lenses of the concept of "food sovereignty", while taking into account how food aid embargoes imposed by successive governments to the SPLM-N areas have impacted the roles of women, especially as farmers.
This paper was originally posted by the author on ResearchGate.net.
Subscribe for Latest Updates
Our monthly updates and WhatsApp peer learning group highlight practical analysis, key events, and diverse viewpoints to help us all deliver Better Aid.